by Bryan Hyland, Commercial Director at Morgan McKinley
"Choose a job you love, and you'll never work a day in your life."
It's a quote that we've all heard at some point. But does it hold true in today's modern working world? A happy and engaged workforce is not just a 'nice-to-have' but a 'must-have' for any forward-thinking company.
In our recent research of over 3400 professionals and 650 employers/hiring managers globally, we found that engagement at work seems to be a bit of a struggle at the moment;
47% of employees who responded to our survey are actively searching for a new job in the next six months, and a further 46% cited that they feel 'indifferent', 'a bit insecure', or 'very insecure' in their current roles.
Looking into this at the base level, it suggests that almost half of the global workforce is currently feeling disengaged in their current roles. And that could be jeopardising productivity enormously;
According to the Gallup "State of the Global Workplace" report 2023, employees who lack engagement or are openly disengaged result in a staggering $8.8 trillion in diminished productivity worldwide. This figure is equivalent to 9% of the global Gross Domestic Product (GDP).
From our survey, we also found that in Japan, China, Hong Kong and Singapore, employer branding and a strong sense of purpose at work are among the top aspects that lead to being able to successfullyattract and retain talent.
People care about more than just pay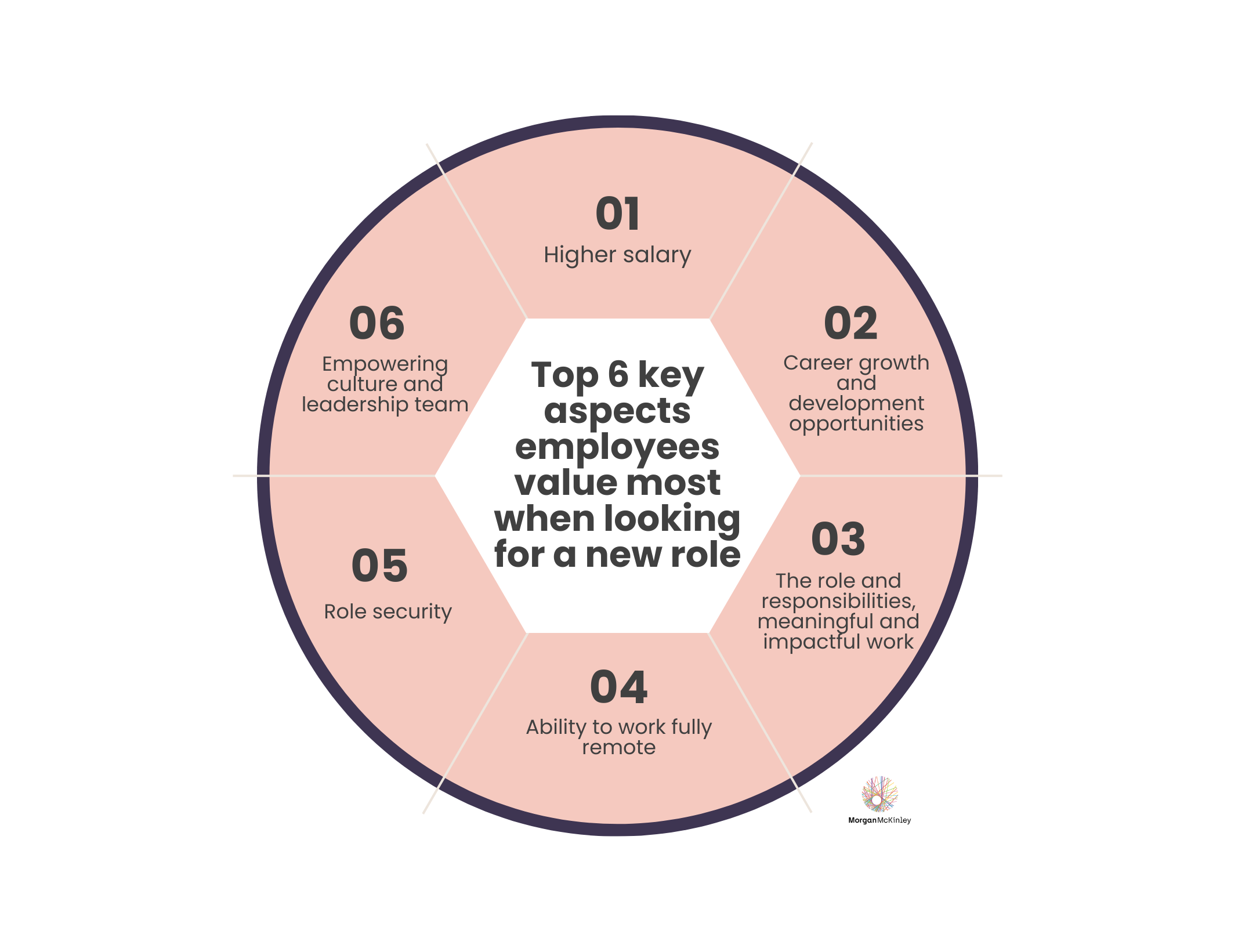 The perks and benefits a company offers play a huge role in how employees feel about their jobs. But when those benefits fall short, people tend to feel less engaged and appreciated…and our research highlighted that appears to be the case.
60% of employees globally feel neutral or dissatisfied with their benefits packages.
On the flip side, when the benefits are top-notch, employees tend to be more engaged and enthusiastic.
"It's not just about the paycheck; it's about the full package of feeling supported and valued."
The value of a company culture that's rooted in empathy is undeniable. It's what transforms a job into a passion and a workplace into a second home.
Our survey results show how meaningful and impactful work, along with an empowering and supportive culture, are amongst the key aspects employees value most in a new job.
Creating a culture of engagement: 7 strategies that actually work
Attitudes towards work are evolving. Shifting beliefs result in shifting employee engagement levels, which affect productivity for businesses all over the world.
Passionate employees,nurtured by a supportive work culture, go above and beyond to infuse enthusiasm into their work. Such workplaces not only retain top talent but also draw in new hires.
An engaged workforce and strong company culture are particularly important when markets are volatile and employees are perhaps not feeling too secure in their roles – if they are engaged and feel part of a positive culture, they are less likely to look for new opportunities.
The core of the workplace ought to be the company culture. A strong and supportive culture fosters a feeling of community, dedication to a shared goal, and shared values.
When employees resonate with the culture, it enhances their job satisfaction and reduces turnover rates. New talent is drawn to a workplace with a culture that promotes innovation, inclusivity, and well-being.
So, here are a few strategies to encourage an engaged culture;
1. Align promised culture with reality: The culture of your company should permeate the entire workplace and not only be depicted in words on a poster. Make sure the office maintains the atmosphere and ideals.
Benefit for employers: Teams are more motivated and in sync with one another when individuals see that the company's culture is demonstrated through actions as well as words.
2. Facilitate growth opportunities: Provide learning opportunities to support the growth of your team. It's about their journey, not simply about the work. In addition to boosting their potential, you may instil a sense of future investment in them by providing support for their talents and experience.
Benefit for employers: Long-term retention is higher among motivated staff members who perceive room for advancement and growth.
3. Cultivate trust: Trust is like the glue that holds teams together. To create a feeling of trust and belonging, promote honest, open, and transparent communication. Because productive collaboration and solid working relationships are predicated on trust in the workplace.
Benefit for employers: When workers feel free to voice their opinions and concerns, their level of engagement increases, which boosts creativity and problem-solving skills.
4. Enhance listening practices: Effective communication requires active listening. Encouraging staff members to voice their ideas, worries, and suggestions promotes an environment of open communication.
Benefit for employers: Collaboration and employee engagement are ultimately strengthened when employers listen intently to their staff. It's similar to amplifying transparency.
5. Intentionally foster informal meetings: Promote informal conversations that deepen team relationships, such as those around water coolers and pantries. While organised events have their role, unstructured meetings offer a forum for casual and unplanned conversations.
Benefit for employers: Actively fostering such gatherings can create some of the best ideas. It can create a feeling of belonging and shared objectives among team members.
6. Encourage employee feedback and ideas: Employee suggestions and feedback reveal unique perspectives and ideas that can spur creativity and improve working procedures. Let them impart their wisdom.
Benefit for employers: It shows a dedication to ongoing development and progress, which may boost worker satisfaction and engagement.
7. Never neglect recognition: Employee motivation is increased when commitment and contributions are acknowledged and celebrated. Sometimes all it takes to keep them motivated is a simple 'well done, thank you'.
Benefit for employers: Employers actually gain from employee appreciation because it strengthens workers' dedication to the goals and achievements of the company.
The changing dynamics of employee-employer relationships
Gone are the days of traditional top-down structures. As organisations evolve into more collaborative and inclusive environments, employees now experience a heightened sense of ownership and empowerment within the organisation. This shift encourages open communication, innovative thinking, and a greater sense of involvement, all of which contribute to heightened engagement.
When employees feel their voices are heard and their opinions are valued, this leads to them:
Being more invested in their work
Being more productive
Having higher levels of job satisfaction
Having a stronger connection to the company's mission and culture
Committed to your culture
Yet, it's not just as straightforward as simply implementing a new culture.
Organisations must transition from short-term efforts to long-term, comprehensive strategies that give priority to employee engagement and cultivate their culture.
While smaller companies may question the cost, effort and resistance to change, it's essential to remember that your staff is your most valuable asset. They represent your business and contribute to its growth. If you want to expand as a company, you can't afford to treat them like just another expense on your balance sheet.
The secret is striking the correct balance so that culture supports your objectives and core values without taking precedence over the needs of the dynamic business environment.
Engage or reroute; the choice is yours!
We cannot overlook the fact that employee engagement is an important discussion in the business world. It's important to feel a true connection to your profession, not merely to clock in and out. The culture of a business and employee involvement have a direct bearing on forging this bond.
If you want your company to thrive, then you need to make sure that your employees are engaged at work–and if they aren't, then it might be time for some changes!