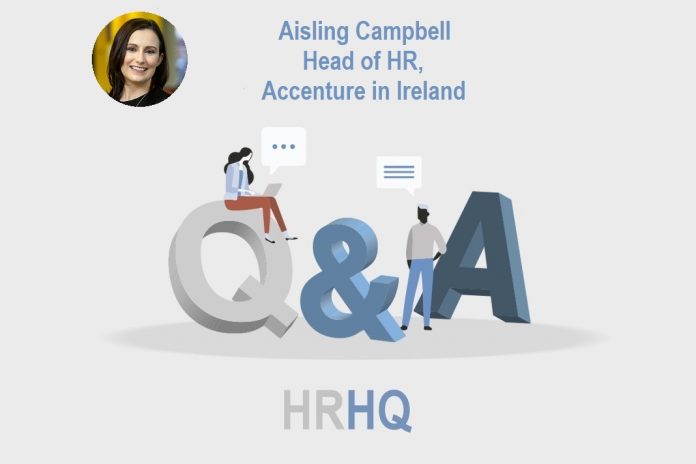 Aisling Campbell is Head of HR with Accenture in Ireland. Accenture is a global professional services company which has been operating in Ireland for over 50 years and specialises in information technology (IT) services and consulting. It has a diverse workforce of over 5,000 people in Dublin and Cork, representing 95 different nationalities. Accenture recently topped the list of the 25 best workplaces in Ireland, created by LinkedIn.
We asked Aisling to share her thoughts on HR, her career and the challenges facing her and Accenture .
HRHQ: Tell us about your career journey and what originally attracted you to a career in HR?
Aisling Campbell:  I have always been fascinated with human behaviour and after graduating with a degree in psychology, I started working in the area of Customer Insights and Research, which I loved. I had the opportunity to work with some excellent marketeers and brands, and this really taught me the importance of listening to consumers to achieve business outcomes.
Then in 2011, while working at O2, I started an MSc in Occupational Psychology and made a career move to HR at the same time, focusing this time on Employee Insights and Research. I was really lucky to have amazing sponsors and to be supported by the organisation to do this.
Since then, I've focused on broadening my HR skillset. I joined Accenture in 2015 as HR Manager for our global R&D and innovation centre, The Dock. I then took on the role of HR Lead for Accenture's Operations, before becoming Head of HR for the Irish business earlier this year.
I love HR and I am so happy I made this career pivot when I did!
HRHQ: What has been the most significant change in the HR world since you began your career?
AC: When I first started in HR, there was a lot of focus on operating models, shared services and improving employee experience from a speed and efficiency perspective. Now, the focus is much more on the whole person – their skills, aspirations, creating an inclusive environment where everyone can thrive. HR also has a pivotal role to play in wellbeing and creating an environment that supports and promotes physical, mental and emotional health.
HRHQ: What is the most important HR challenge facing you currently?
AC: Attracting, retaining, growing and developing talent is a key challenge for every organisation right now.
As we emerge from the pandemic, I am seeing a strong trend towards people wanting to design their work-life in ways that might have been more challenging before. This is a huge opportunity for HR to partner with and engage talent to create the future of work. For organisations, it enables access to a broader and more diverse talent pool than ever before, and for employees, it allows them to create a lifestyle where they can thrive personally and professionally.
HRHQ: How should HR professionals design their career and how much can you realistically career plan?  
AC: I think realistically it is about career direction, rather than career planning. Knowing your strengths and where and how you bring your best to work is key. Experiencing different cultures and industries can be a great way to do this.
I think HR professionals should think about building a broad skillset, as well as getting breadth across different functions in HR. For example, data and analytics might not be an obvious HR skill, but it's something we use all the time. So I would encourage everyone to think about building broader skills in complementary areas, not just traditional HR.
Ultimately, my advice for anyone is to have a learning and growth plan first and the career plan will follow. Most of all, enjoy the journey and keep an open mind!
HRHQ: What advice would you give a person at the start of their HR career?
AC: My advice would be to adopt a learner mindset, there is always something new to learn in HR!
Reach out for help and find mentors who can share their learnings and experiences with you. I have been very fortunate through my career to have mentors and sponsors who I know I can ask for advice, share ideas and learn from their perspectives and experience.
Also, when you join an organisation, it is important to understand the experience of the people you are supporting. For example, look for opportunities to shadow employees you are supporting to understand their roles, but also their experience at work. This will help you understand how you can link your knowledge and experience of human resources to address the needs of the employees in the organisation.
HRHQ: What soft skills do you believe are key to progressing your career? 
AC: Empathy and communication skills are essential for any anyone working in HR.
Being able to see things from another person's perspective and step into their shoes is where HR professionals can add huge value – as both a coach and a trusted, strategic partner.
Similarly, being able to communicate clearly and having excellent listening skills are essential.
HRHQ: What experiences should HR professionals try to get as they build up their CV?
AC: I think building a breadth of experience is key – this helps you understand where your strengths and passions lie, as well as helping decide overall career direction. Working across different industries is a great way to build commercial acumen. Also – always think about the impact and value you can bring to a role, as well as the functional HR skills you can develop.
HRHQ: What are you most proud of in your career? 
AC: Personally, I am very proud that I have been able to transition to HR and build my career in HR.
However, what makes me most proud every day is seeing those I work with grow and progress in their careers. I am very fortunate to work with a team of passionate, energetic and caring colleagues and seeing them grow and achieve their aspirations is so important to me.
HRHQ: What do you think the Future of Work is?
AC: In Accenture, we have been spending a lot of time listening to our people and our clients about what they think the future of work looks like. And it's clear that there is no "one size-fits-all" or even "one size fits many" definition of the future of work. The goal is to have a workforce who can be productive and feel connected wherever and however they work.
At a time when people are fundamentally re-thinking their relationship with work, and against the backdrop of a hugely competitive talent market, organisational culture takes on a new significance. For me, culture isn't anchored to designated places, but it's found in relationships and experiences. I think this is where companies should focus their efforts – designing work around all types of workers and equipping employees with the resources they need to support them in a hybrid world.
HRHQ : Many thanks Aisling for taking part and we wish you and Accenture the very best for the future.