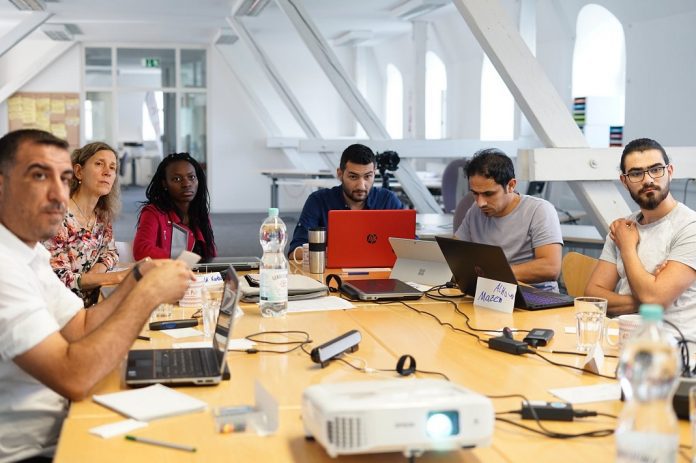 by J. Baskerville
Having happy employees is one of the key factors that affect the overall performance of any company. Employees who are happy and satisfied with their work perform better, work harder and are more productive. Warwick.ac.uk released a study that shows how people work harder when happier which is why companies choose to invest in well-being and support projects to boost employee satisfaction.
However, the needs of employees then and the needs of employees now, after going through a worldwide pandemic, might not be the same. HRheadquarters.ie explores the incoming legislation about integrating remote work as a permanent feature of Irish workplaces. Nowadays, most employers can't simply depend on the four walls of a well-functioning office.
As employers, it is important to care for your employees and to provide them with a healthy working environment. In this article, we'll take a look at the tools every employer needs to ensure a happy and healthy workforce.
Well-being Software
In the current digital age, most work is done online – and on our employees' gadgets. So much so that there seem to be fewer boundaries with personal and work life. It is important for employers to draw that line and encourage their employees to pursue a good work-life balance.
Wellness software are applications that aim to do just that and more. Hellomagazine.com compiled a list of various apps created for your employees' overall wellness. There are apps to keep track of their work time, help them relax through guided meditations, improve their health behaviours, engage them with some rewards system, or even something as simple as provide an avenue for employee feedback. Ask your employees to download some for a better work experience!
Ergonomic Workstation
It is also important to promote physical health and well-being in the workplace. People who work on their desks often have bad posture and are likely to have sore backs, necks, and shoulders. For happier and healthier employees, prioritizing an ergonomic workstation is a must to avoid any potential health issues and long-term postural conditions.
Painfreeworking.com explains how your back, shoulders, and arms need proper care because they are prone to soreness throughout the workday. This is why it is recommended to acquire ergonomic chairs or standing desks to allow more movement. In particular, standing desks are great additions to workplaces since they can be adjusted to let you work sitting down or standing up. They can reduce your bad posture, back pains, and leg stiffness through the flexibility in work positions they offer.
Exercise Equipment
Aside from having the proper work equipment and software, you might also want to consider exercise equipment for your employees. Partaking in physical activities is important to stay healthy and to prevent health concerns. Independent.ie mentions that every hour of seating should equate to at least three minutes of exercise to boost your health and keep diseases at bay.
Nowadays, more exercise equipment is being designed specifically for employees who are always at their desks. Under-desk fitness equipment can be used comfortably while you are typing away at your workstation. Even big equipment such as treadmills or elliptical machines has their smaller counterparts that can easily fit into your space and your work lifestyle.
Engaging Office Space
Another effective way to have a happier workforce is to make sure that their space is engaging. This includes comfortable lighting and ambience, and even some pops of colour. Great office spaces can increase productivity and attract more employees. It also provides them with a working environment that embodies your company culture.
In addition to having ergonomic workstations and exercise equipment, a functional workspace should also have natural light sources appropriate for the type of work that needs to be done. This makes the office brighter and gives your employees a feeling of the outdoors. More importantly, your office should be clean to keep your employees healthy and to establish clean habits.
What other things can employers do to have a happier and healthier workforce?
An additional thing employers can provide for their employees is mental health support. One of our previous articles on Hrheadquarters.ie might give you an idea on how to support mental health in the workplace. For one, you can offer social support and foster healthy relationships within teams. Combining this with the tools above will make your employees happy with their jobs.
A happy and healthy workforce can do wonders for your company. Employees who are satisfied and content with their company are loyal and are more productive. Employers must do their part in providing the tools their employees need whether they're in a remote setup or the office.