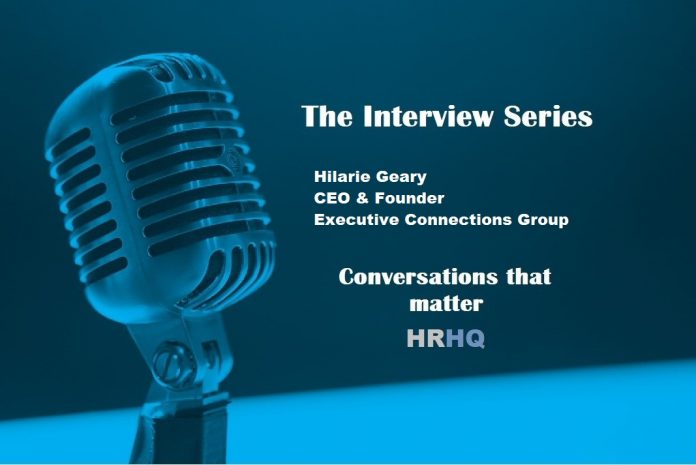 Hilarie Geary, CEO & Founder of Executive Connections chatted to us about her career, how she got into recruitment, the current jobs market and the areas in big demand, what employers are considering as part of the hiring decision, as well what we might expect in 2021…..
Contact
url: www.executiveconnections.ie
LI: https://www.linkedin.com/in/hilariegeary
BIO
Hilarie has over 33 years recruitment expertise. Her company and its brand are highly regarded in the Irish market. She set Executive Connections up at the age of 25 and has been leading her firm for over 30 years. The company has won many awards over the last number of years, more recently in 2019, Hilarie won best female led business of the year at the All Ireland Business Summit. This win followed the announcement of Executive connections being awarded the Business All-Star Accreditation the day before. This is just 2 of the multiple awards the business has won over its 29 years. Hilarie holds an M.Sc. in Business, Leadership & Management Practice, she is a member of the institute of Directors. She is a much in demand conference and event speaker. Hilarie recruits across all governance led roles and executive Finance functions and business transformation. She is a coach, trainer and consultant regarding recruitment, candidate assessments, workforce planning, succession planning and a behavioural assessment specialist. Hilarie enjoys positioning her teams at the cutting edge of innovation and market dynamics.
Executive Connections is an award-winning specialist Financial Recruitment Firm founded by Hilarie Geary in 1991 due to the establishment and resultant demands of Irelands international Financial Services Centre. We identified a need for a quality recruitment service offered by only highly experienced consultants with the ability and freedom to tailor our service without the constraint of corporate infrastructure. Since this time the company has emerged as leaders in each of its specialist divisions Banking, Accounting, Marketing, Digital Technology, Legal, Compliance & Risk, HR and Funds & Asset Management. With a staff of 20 we are one of the most experienced and best resourced recruitment consultancies in Ireland. We support and construct, in line with our clients' strategies, robust workforce planning and succession planning programs within their firms and have the capacity to scale up to manage large contingent recruitment projects. Our differentiators are in the value we provide in our service delivery, our trusting relationship that we have built over 30 years, our resilience and agility to consistently deliver but above all the people we employ and the culture of trust we have created.
Clients and markets we serve:
We supply personnel specific to financial services in domestic and global markets within; Accounting & Finance, Banking, Asset Management, Capital Markets, Compliance, Legal, Project Management, Corporate Banking, Fund Administration, FX & Money Markets, Global Custody, Hedge Funds, Professional services, Fintech, Insurance and Reinsurance, Investment Banking, M&A, Operations, Private equity, VC, Research, Retail banking, Risk management, Stock broking, Structured finance, treasury and wealth management. We manage sensitive hires effectively ensuring strong workplace adaptation and support organisations building out their business strategically through engaging with the best talent. With the recent establishment of our marketing division and Digital Tech division it has created growth in our client network within Industry. Our clients include some of the largest MNC's and SME's some of which are;
Our clients choose us because of our passion and our capability matched with resources. Our value proposition is different to a generic recruitment consultancy due to its rich history in being innovative, efficient, professional, and consultative. We capture exceptionally difficult candidates to find – that is a skill – a complex craft that we have coached our people over the years and charter the best opportunities for them in line with their goals and aspirations. It's what makes us standout…