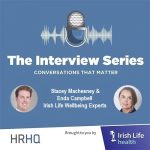 Declan Collins chats to Stacey Machesney, Head of Health and Wellbeing and Enda Campbell, Strategic Wellbeing Consultant, at Irish Life Health. Discover how the use of data is vital to ensure you maximise your wellbeing programmes and understand their impact; how some wellbeing interventions work brilliantly in some organisations, but not in others; the return on investment of programmes such as these; helping employees create healthy habits; and why Declan might not answer the phone if Stacey calls…….
About Our Guests
Stacey Machesney
Stacey Machesney is Head of Health & Wellbeing at Irish Life Wellbeing, where she leads the delivery of wellbeing solutions for Irish Life's 1.3 million customers.
Irish Life Wellbeing is a health and wellbeing consultancy, working with organisations to help employees lead healthier lives and supporting businesses to build a culture where everyone can thrive. Our approach is informed by the latest wellbeing insights and involve a combination of lifestyle interventions designed to promote positive, long-term behavioural change.
Prior to her role with Irish Life, Stacey was the Head of Ireland at Spectrum Life, delivering wellness solutions for over 500,000 users across the UK & Ireland. Stacey's extensive experience in public health, HR leadership and health education drive her passion for creating impactful, measurable employee wellbeing solutions that achieve long-term success. To focus on her own health and wellbeing, Stacey enjoys cooking and competes with her mum, a food scientist, to produce the most nutritious recipes, sometimes sacrificing on taste.
Enda Campbell
Following an early career working with elite athletes on performance psychology and biomechanics, Enda moved into Workplace Health Promotion and academia. As part of the National Healthy Workplace Framework for Ireland- a Department of Health initiative- he created the first academic course in Workplace Health Promotion in UK&I, run in NUI Galway in 2016. He worked on multiple research initiatives within workplace health promotion and he sits on the Association for Health Promotion's CPD and executive committees. He worked within NGO, public and private sector organisations to bring evidence-based interventions to reality. He currently works with clients in multiple industries such as financial services, manufacturing and technology.