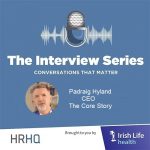 Story Telling is becoming a key skill in the leadership toolkit – Declan talks to Padraig Hyland, CEO of The Core Story about why leaders and organisations should care. They discuss what it is and why it is more important to be able to tell your authentic story than merely state a purpose or mission; the components of a good story and why authenticity matters; the difference between a Smart and a Heart Strategy; and more….
About our guest
Padraig is a truly unique speaker bringing both his extensive business and professional stand-up comedian experience creating a unique and engaging combination.

Alongside speaking, Padraig is Co-Founder of The Core Story™, an organisation that has established a unique process to establish authentic leadership and strategy for clients globally.

Padraig is a speaker who brings insight, high engagement and fun to his talks. A thought leader in creating engaging strategies and high performancecultures through Authentic Leadership and Storytelling, Padraig seamlessly brings this experience in to his talks leaving any audience with plenty to take away and a memorable experience.

Click here and see Padraig's TEDx talk 'How to engage an audience'.