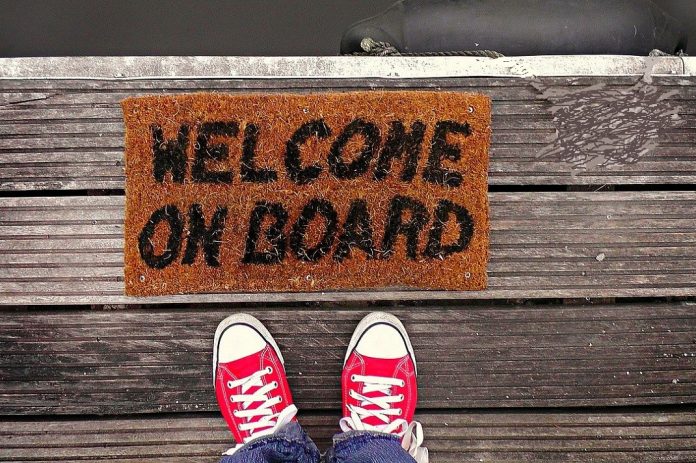 by Stacey Mc Grath, Digital Marketing Executive with Intelligo Sofrware who provide Corporate HR Software and Payroll Software
Welcoming a new employee to your business is more than a quick introduction to their manager, especially now in the age of COVID-19. How you embrace a new employee during this time will give them the best probability of integrating successfully in your company. Although the first day at any new job involves a lot of housekeeping, sticking to formal tasks means you're missing your chance to welcome them warmly. So it's time to think outside the box. These clever welcoming steps for the new employee will start their employment with your company on the right foot.
Step 1: Communication
It's an excellent step to start welcoming a new employee before they arrive at their first Zoom or Google Hangout. The more your new employees know about your company, their training and the general work culture, the less apprehensive they'll be for their first day. Check-in with them before they begin and let them know how to prepare and what to expect. Some examples of information to give them include:
The company dress code;
Normal working hours;
A schedule for the first week;
The time they should begin on their first day.
Step 2: Prepare a welcome package
Welcoming a new employee with a welcome package is a simple gesture that can go a long way. Welcome packages get employees acquainted with their new role and workplace and give them a pleasant surprise on their first day as it arrives on their doorstep. Start with the basics that new employees should know about your company and your people. Include practical items that they'll use daily, hand sanitizer and fas masks are ideal at the moment, or even some customised or company branded 'swag'. A welcome package can speak volumes of your companies' culture and show that you are excited to welcome them to the company.
Step 3: Send a Company Announcement
Not every new employee will be confident enough to start introducing themselves and socialising, especially on a video conference. So it's a good idea for HR to send an introductory note to the team on an employee's first day. Sending a new employee announcement can take the form of a simple email to welcome and introduce your new employee. Ask your new employee some personal information like their favourite hobbies or music and include information for good talking points when chatting with their colleagues. Likewise, if they are working on a smaller team, try organising a virtual activity so that your new employee gets to know their teammates well.
Step 4: Assign a Buddy
Management or HR usually oversee the onboarding processes for welcoming a new employee, but pairing a new employee with a colleague or 'buddy' can help to make them more. That's why assigning each new employee a 'virtual buddy' or 'virtual mentor' can be a good idea. This doesn't have to be a one-day job but can continue for any length of time that allows the new hire to feel fully immersed in their new role.
Welcoming a new employee should be an ever-evolving process, if we've learned anything from the last year. So, ask your latest employees about their first days at work. What did they like? What would have been more useful? Use this constructive feedback to improve your welcoming process for new hires in the future – even if it is virtually for now.