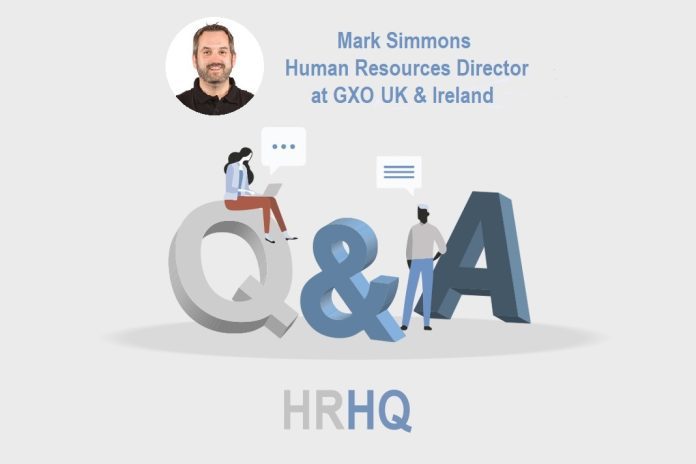 Mark Simmons is the Human Resources Director at GXO UK & Ireland. GXO is the world's largest pure-play contract logistics provider for multinational companies and blue-chip market leaders.
We asked Mark to share his thoughts on HR, his career and the challenges facing him and GXO.
HRHQ: Tell us about your career journey and what originally attracted you to a career in HR?
Mark Simmons: After [university/ school], I joined Proctor & Gamble in 1994 and the first graduate placement I undertook was in Personnel Services – that's what HR was called back then. I loved the variety of the role and the nature of Human Resources and have remained in the profession ever since. I then joined Revlon International, and this is where I matured professionally. It was a great business, and I was based in a manufacturing environment with nearly 1,000 employees. After seven years with Revlon, I moved to Body Shop International in a regional HR Manager role across multiple sites. Having been in the manufacturing and FMCG sector for over a decade, I wanted a new challenge and a change, so I moved to join Christian Salvesen – the transport and logistics company – as an HR Business Partner. I have since remained in the supply chain sector transforming the HR functions of pioneering companies like Christian Salvesen, Norbert Dentressangle, XPO, and now GXO.
HRHQ: What has been the most significant change in the HR world since you began your career?
MS: There are so many changes we have encountered over the past 25 years. In my view, the most significant of these has centered on the need for and adaptation of different skills and talent requirements to meet the changing demands of growing global companies and the way in which work has evolved. At the same time, as HR professionals, we have to balance the changes in individual expectations within the global environment.
HRHQ: What is the most important HR challenge facing you currently?
MS: Our mission is to successfully attract and retain talent in today's market whilst keeping a laser-like focus on the wellbeing and development of our people. We want to remain an employer of choice and ensure we have a great environment for everybody each day.  
HRHQ: From an employee's perspective, what does a great HR service mean?
MS: A great HR service ensures all colleagues are compensated correctly, provided with the right tools to do their job, are listened to, and feel like they belong in the organisation. A great culture and service means colleagues are able to be their true selves in the business, are engaged and understand where they fit within their team and that they can develop their career at GXO.
HRHQ: How should HR professionals design their career and how much can you realistically career plan? 
MS: It's always a good thing to have a plan that will help you shape and signpost the key actions to achieve your desired career outcome. It's also important to be adaptable in the here and now so you can react to changing needs within the business. Customers trust us with their business and it's everyone's job to consistently deliver for them.
HRHQ: What advice would you give a person at the start of their HR career?
MS: I'd advise all aspiring HR professionals to take every opportunity to experience numerous areas within their discipline to give them the greatest breadth and depth of knowledge within HR. I'd also encourage them to network with other leaders to learn from and develop their commercial understanding alongside their professional development. 
HRHQ: What soft skills do you believe are key to progressing your career? 
MS: I have always believed IQ gets you into an organisation — and EQ keeps you there. The key skills required in any environment are the ability to build rapport, develop relationships and make connections. This, combined with a positive and "can do" attitude will really help you succeed. 
HRHQ: What experiences should HR professionals try to get as they build up their CV? 
MS: Variety of experience is critical to setting you up for a successful career in HR. It can be incredibly valuable for an HR professional early in their career to work in other areas of the business, such as operations, to make sure they are well-rounded as they develop. I'd also highlight the need to step into spaces or experiences that may feel uncomfortable but can provide great learning opportunities.
HRHQ: What are you most proud of in your career?
MS: I've been fortunate to work for some great companies and with brilliant leaders. One of my proudest achievements is playing a part in the creation, development and evolution of our people culture within GXO as we have grown from 5,000 employees when I joined to over 42,000 today. The most important part of that has been ensuring that we retain the DNA of our people-centric focus that has played a critical role in our success. 
HRHQ: Many thanks Mark for taking part and we wish you and GXO the very best for the future.